My kind of luggage tags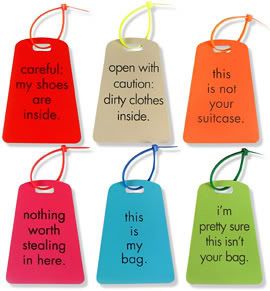 These tags come just in time for my holiday travel. I will need to get a few for my luggage before setting off to not much warmer climates to visit family. The last time I traveled, I didn't have anything to easily distinguish my suitcase from the 10 million or so others that came shooting out of the baggage carousel. This time it will be different!

They come in a set of six, each one saying something different:
Careful: my shoes are inside.
I'm pretty sure this isn't your bag.
Nothing worth stealing in here.
Open with caution: dirty clothes inside.
This is my bag.
This is not your suitcase.


Found on Wishing Fish