The penguin speaks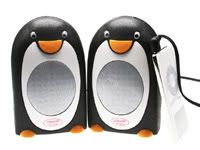 You just can't ask for more adorable speakers than these. These speakers are just perfect for showing the mega-MicroCorp* the bird by plugging in your Apple iPod into Linux** inspired speakers. Gotta luv it!!

*Not their real name.
**I don't know if they are truly Linux inspired, but they remind me of the Linux penguin. Which means it counts well enough for me!